Toledo Tool & Die Company has been a family operated business since 1940 and we specialize in metal stampings and welding components for the automotive industry. We are hiring at our Toledo, Ohio and Pioneer Ohio locations.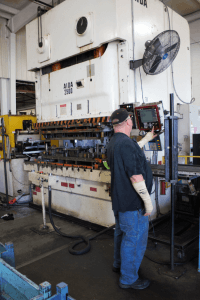 Essential Duties and Responsibilities:
• Responsible for performing diversified intermediate-to-complex duties to install, troubleshoot, repair and maintain production and facility equipment according to safety, predictive and productive maintenance systems and processes to support the achievement of TTD's business goals and objectives.
• Perform simple-to-intermediate duties to install and maintain production machines and the plant facility's equipment.
• Provide assistance for emergency/unscheduled repairs of production equipment during production and performs scheduled maintenance repairs of production equipment during machine service.
• Perform simple machinist duties and responsibilities.
• Perform mechanic skills including, but not limited to, mechanical, electrical, pneumatic, hydraulic, troubleshooting and repair of production machines.
• Read and interpret equipment manuals and work orders to perform required maintenance and service.
• Diagnose problems, replace or repair parts, test and make adjustments.
• Perform regular preventive maintenance on machines, equipment, and plant facilities.
• Perform a variety of plumbing maintenance and carpentry functions.
• Use a variety of hand and power tools, electric meters and material handling equipment in performing duties.
• Detect faulty operations, defective material and report those and any unusual situations to proper supervision.
• Comply with safety regulations and maintain clean and orderly work areas.
• Authority to stop production in the event unsafe parts or conditions appear.
• Performs other duties as assigned by the immediate Supervisor and/or Manager, which may be outside the scope of responsibilities noted above.
Minimum Criteria for the Job:
• Requires a high school diploma/GED and experience in Industrial Maintenance, or an equivalent number of years of education and production maintenance experience.
• Technical or Associates degree in mechanical, electrical, or industrial maintenance a plus
• 2+ years of manufacturing experience in the following; hydraulics, pneumatics, mechanical and industrial skills. PLC experience and HVAC is a noteworthy plus.
• Must be highly motivated and able to work independently
• Must be able to lift and move objects up to 50 pounds consistently with heavier weight necessary at times.
• Preferred Blueprint reading and experience reading technical manuals.
• Meet or exceed the job requirements of the job.
• Identified candidates must be able to work overtime (daily, weekends and holidays).
Principals only. Recruiters, please don't contact this job poster.
Job Type: Full-time
Apply Now