Smarter. Faster. Effective.
The fundamental ingredient to Toledo Tool and Die's success is integrating innovation and technology into our engineering and manufacturing processes to design and produce cost-effective products while maintaining a remarkably consistent high level of quality.
Toledo Tool and Die began in 1940 as a tool and die manufacturer for stamping organizations in the automotive industry. Moving from a two door service garage to a 105,000 square foot facility today, Toledo Tool and Die's world renowned expertise in providing innovative tool and die fabrication to stamping solutions is central to its ability to meet and exceed the automotive market's demand.
With the financial strength to maintain this competitiveness and time-to-market, Toledo Tool and Die has campaigned an aggressive capital investment strategy over the last decade to advance joining technologies in both tool and die and stamping operations which include high-tonnage stamping presses, high-speed machining centers, and advanced robotic welding.
Constantly Evolving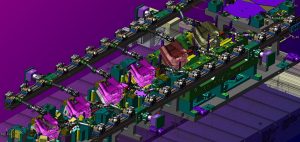 We utilize the latest cloud computing technologies to integrate all aspects of our operations – from logistics to quality, to manufacturing, and to engineering. With this, we partner with our customers to provide quality products while maximizing throughput and reduce waste
Toledo Tool and Die's global engineering presence has proven capability in the areas of vehicle program management, virtual engineering, prototype, and testing. In keeping with the spirit of our vision, our highly knowledgeable and fully committed team of engineers and technicians endeavor to make our customers product creation process more streamlined, efficient, and economical with the latest engineering technologies and techniques.
We push to break new technological boundaries every step of the way, every day.